Going Beyond just 'tips' for builders & managers.
Mission
We want to facilitate serendipity for community builders to grow their skills, bond with each other, and share their learnings and struggles.
Beyond's community is designed for community builders looking to expand their skills, and find high-quality content & connections, as well as a low-stress community to chat with. We wish to provide a network through which community builders can find answers to their questions as they build. To provide a platform for CMs to connect, develop their personal network, and chime in where they want.
Vision
Community is in our DNA and has been from the start, and forever will be.
Our community allows us to get insights from top community managers as we develop the product, creating something truly built for its core users and relevant to the current state of technology. This community is the best quality control any product developer could ask for and drives us to continue improving the value for community builders. We are not just about hype or fomo, we want authenticity and genuine relationships. We've built trust with community managers—and more than that, we've built a product for them.
Beyond is a multi-faceted project, and our community caters to two sides of the company.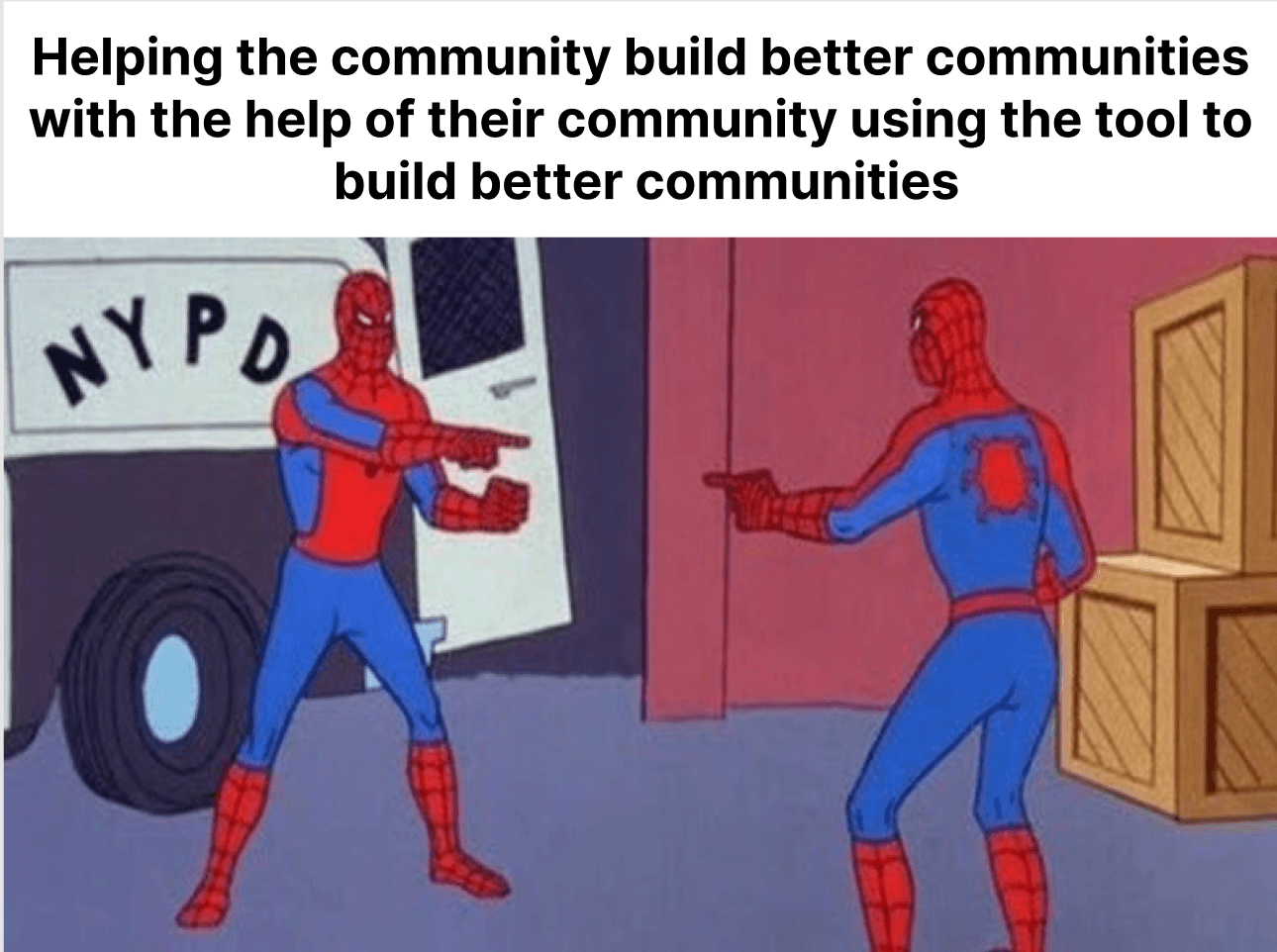 Today we'll explain to you the objectives of our community and its setup, why we've designed it like this, and how you can be a part of the community!
💻
Our product provides a solution for our community members to install in their communities, powering up control and community-building efforts.
Providing community managers with the promise of tokenized communities, making it easy to provide access and perks to members and a better way to understand their community members, coming with on-chain and off-chain community insights.
🫂
Our community provides a safe space in which members are encouraged to engage with fellow members, ask a question, build their network, and prioritize valuable educational discussions.
Weekly voice chats, topic discussions, and community mixers are some of the events we host to encourage relationship building along with high-level content & questions posted from the Beyond team.
Beyond's tool for CMs optimizes web3 community management, providing more power to the builders.
📚
Meanwhile, members of Beyond have access to support from real community managers, and a chance to exchange, learn and improve on skills to implement in their own community.
We know that it's tough for community managers and that there still is no main place for us to exchange and learn together.
Even though the increase of community managers is huge and mostly due to the rise of web3, the position is considered to be one of the most important roles in the future of tech.
👇
So where is the community support for these individuals and education for their careers?
We plan to fill that lack of community and support for the progress of community managers. As Beyond is building tools for CMs, we felt that it was only right to have an additional support system for community managers.
First Impressions
To complement the tools for building & managing, we aim to have a community for Community Builders & web3 LOVERS. Of course, we are open to discussing all sides of web3, but our focus is on empowering communities to have the resources they need to grow.
Community builders are always searching for more education and safe spaces to ask questions and meet other CMs. Most community experts in web3 are using the limited tools available to build the best experience for their community members.
🧪
Beyond is building a tool that supercharges your community. In tandem with the tool, our community acts as a support for the public. Users of Beyond can find non-stop connections to our team, and connect with other members using the tool. Non-users of Beyond still have access to a public community for daily brainstorming and education on community building.
You can find all info about Beyond and our product in the Beyond Info category of our Discord server. The community is always open for anyone to ask questions in our Discord, 24 hours 7 days a week. Message anyone from the @Beyond Crew and you'll have a response promptly.
🔮
We believe clarification of community initiatives is important. We feel it is important for us to provide a clear description of the mission we aim to achieve with our community.
Our company goal is to improve the lives of every CM & to connect more communities to web3 and the power of its tech.
We've chosen to offer a little bit of handholding in the onboarding. We want every member to be confident in their entry into the community. Let's clear up any questions from the beginning so that our community members know how to engage properly.
Knowing our mission as leaders of the community helps you, the members know why you should join our community.
Onboarding
The community of Beyond will be an all-engaging audience that we aspire to be full of natural connection and relationship building. This means it is important for us to get to know each member who joins. If you are a new member, you'll most likely receive a welcome message from the team and be asked to introduce yourself.
If you leave an introduction, our CM, @scoopcheerios will enthusiastically reply & welcome you.
🫂
The goal is to get to know you, for others to connect as well, and for the CM to know the community well enough to facilitate in the introductions or connections between community members.
Onboarding is our ice-breaker and gives us an opportunity to start a conversation. Not all onboarding calls are efficient, but we prioritize building genuine relationships with our members over anything else.
This is why we also host live voice chat events, for the chance to connect and discuss. Voice chats along with curated topics/content for learning, and experimentation in web3 community building.
🔗
If you would like to participate in a match-making experiment with the Beyond team and our Intros bot, it will help us improve your experience.
This form is for US to get to know YOU, and we would like to build a community with intertwined connections. If you have matching answers to another member, you will be proposed with some prompts to start a conversation.
Additionally, our community team will take these responses to optimize events and content for you.
Routine opportunities to show up
After testing times and days in the first few months with Beyond, we have optimized our event schedule. However, with the data from the Intros form, we continue to optimize for a time that works better for more people.
𝘾𝙖𝙢𝙥𝙛𝙞𝙧𝙚 𝘾𝙝𝙖𝙩 - Every Tuesday @ 15h UTC
📆  Every week we open the voice chat to have a casual chat with our community.
🏆  The goal of this space is to allow anyone to ask a question or speak their mind on any subject in web3.
💬  We pick a starting topic for the session of the week and invite you to join us down the rabbit hole.
💡 If you have any suggestions for topics or would like to lead a chat please feel free to send us a message!
𝘽𝙚𝙮𝙤𝙣𝙙 𝙒𝙚𝙗3 𝘾𝙤𝙢𝙢𝙪𝙣𝙞𝙩𝙞𝙚𝙨 - Every Wednesday @ 17h UTC
💜  𝐖𝐞𝐥𝐜𝐨𝐦𝐞 𝐭𝐨 𝐁𝐞𝐲𝐨𝐧𝐝 𝐖𝐞𝐛𝟑 𝐂𝐨𝐦𝐦𝐮𝐧𝐢𝐭𝐢𝐞𝐬!
🎙  A Twitter Space hosted every Wednesday by Kyle and the Beyond Team.
🌐  Every week we discover a part of community building in Web3.
🗓️  New topic every week!
❓  Diving into the "what" and "why", which content should be public and not, and some examples of how it's already being done.